(bron: https://orthodox-europe.org/content/arnhem-pokrov-feast)
The Feast of the Protection of the Theotokos, Altar Feast of the Arnhem Parish, is Marked in the Netherlands.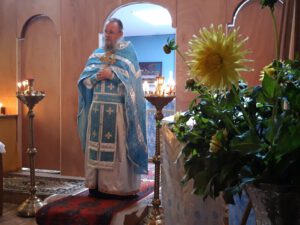 1 / 14 OCTOBER 2020: On the Feast of the Protection of the Mother of God, Archpriest Stefan Weerts, Rector of the Holy Resurrection Parish in Brussels, Belgium, served the Divine Liturgy in the Parish of the Protection of the Mother of God in Arnhem, Netherlands. With the blessing of the Diocesan Bishop, Father Stefan travelled from Belgium for the significant occasion — not only the Parish's Altar Feast, but also the first celebration of the Divine Liturgy in the Parish since its return to the Diocese earlier this year.
The faithful were very pleased to welcome Father Stefan and delighted to be having services once more. Father Stefan recalled that he had laboured in the Arnhem Parish many years before (from 1983 – 1984), and had been directly involved in the refurbishment of the temple that took place during that period. Now, a new iconostasis is being constructed for the church, with space for the icons of the twelve Great Feast; and the church interior is in the process of being repainted.
At the request of the Bishop, Father Stefan is working to establish a new schedule of Divine Services and worship for the future, in discussion with the starosta and parishioners. Until such time as a resident Priest may be appointed for the Arnhem Parish, other members of the Diocesan Clergy will serve its liturgical and pastoral needs, with regular Saturday Liturgies being celebrated on the third Saturday of the month.
During his time in the region, Archpriest Stefan also celebrated the Liturgy in Maastricht, which was very well attended, with faithful travelling from far and wide to attend the Divine Liturgy, despite the challenges posed by doing so in accordance with the many COVID-19-related restrictions, and Father remarked that he is much encouraged by the determination of the faithful in the Netherlands to make extra efforts to attend Divine Services and receive the Holy Mysteries — and is looking forward to further services in the near future.